jellyfishflan
---
Bianca Calvo | freelance illustrator
About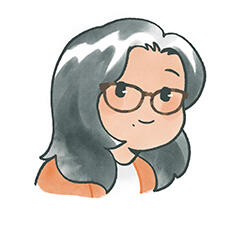 Bianca Calvo is a Filipino-American illustrator living in California. She has a B.A. in architecture from UC Berkeley. She loves to draw cute things in soft colors and has a deep interest in the design and storytelling process. Her favorite things include sleepy dogs, ball-jointed dolls, and leche flan.

Bianca is currently looking for freelance and full-time opportunities. Interested in working together? Get in touch!
---
WORKS

Cover Art
2021 [On/Off] Line Vol. 002: YAY AREA DJ mix by CariPosadar
2021 [On/Off] Line Vol. 001: Love Language DJ mix by CariPosadar
2020 "Back of the House" single by Alice Knows Karate

Contributing Artist in Fan Zines
2020 "Premium Heart" Final Fantasy VII
2019 "Tales of the Four Nations" Avatar: The Last Airbender
2019 "Memoirs" D.Gray-man
2019 "Equinox" JJBA Golden Wind
2019 "Knockout" One Punch Man
2019 "Seasons" Monthly Girls' Nozaki-kun
2019 "Seaborne" Voltron: Legendary Defender
2018 "From Here On" Yona of the Dawn
2018 "Between 2 Points" Voltron: Legendary Defender
2017 "The Crows" D.Gray-man
Contact
Have an inquiry or just want to say hello?
Email bianca@jellyfishflan.com.
Commissions for personal use can be found on Ko-fi. Please email regarding commissions for commercial use.

Prints are available at Society6. Acrylic charms, postcards, and stickers are sometimes available on Ko-fi.

Links to socials can be found below and on Carrd.